Fitness
Skipping rope
6/10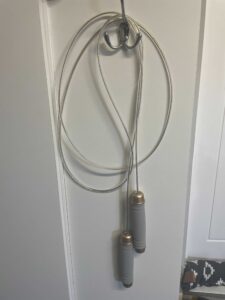 I'm lucky enough to have a garage-turned-home-gym where I live so my fitness didn't have to suffer during lockdown. It didn't have to…but it did, and that's because I'm lazy. I bought a skipping rope because Youtube told me 10 minutes of skipping burns more calories than an hour of running – still not sure on that math but skipping for just 2 minutes is bloody hard! 
I don't use this as much as I probably should but it's good for a warm up and gives me big primary school playground vibes. 
-Amelia
Ab slider
0/10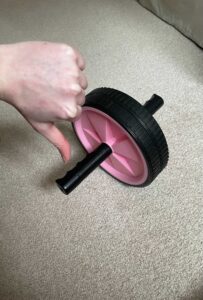 I saw it, I liked it, I wanted it, I got it. The Insta model made it look so easy but when it arrived…not the case. I ended up hitting the floor about ten times, and came away with bruised cheeks and an even more bruised ego. Sounds fake but apparently you need to core strength to master this piece of equipment, who knew?
-Jemma
Weighted hula hoop
4/10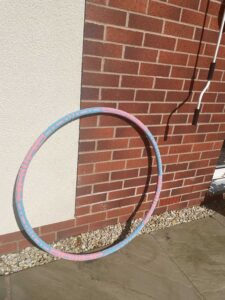 Yes, I'm Gen Z. Yes, I'm addicted to TikTok. And yes, it made me buy a weighted hula hoop. Supposed to help you lose inches of your waist, which could be true but I wouldn't know as I can't keep the thing going for more than 4 seconds. If the £25 price tag isn't enough to put you off then the bruises it can give you might. 
-Amelia
DIY
Dylon Wash & Dye
2/10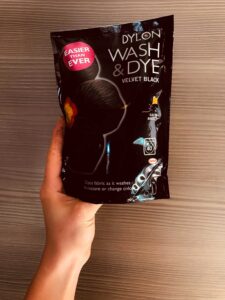 During lockdown I fancied myself as some sort of textile entrepreneur, with a short lived obsession to revamp my "out out" clothes laying dormant in my wardrobe. 'Easier than ever' the packaging boasts…I don't think so. It was a certified disaster – I think I'll be sticking to charity-shopping my old clothes for the foreseeable.
-Natalie 
Magic Tape
3/10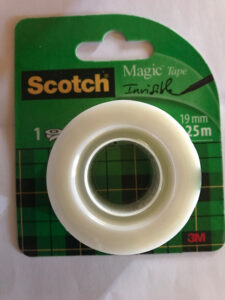 I bought a magic tape roll that was capable of sticking tiles,  bottle holders, heavy mirrors etc onto walls without the need for drilling. The only problem was that my son mistook it for standard sellotape over Christmas and managed to stick himself to his bedroom wall when putting up tinsel (I had banned it from the rest of the house as I really don't like it (Inner Grinch) and used up the entire lot which was about 30 quid's worth. Not a success!
-Gina
3.5 metre long, telescoping window opener
9/10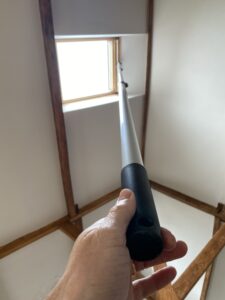 Anyone that's Zoomed me over the past 12 months will get a glimpse of the tall, open roof structure behind me. It looks pretty nice – wooden beams and shafts of daylight from some high places. So wouldn't it be great if I could open those windows, y'know, to let out some wayward wildlife, let in some extra breeze…? But mostly because I just knew that a nerd like me, somewhere in the Internet, would have invented something to do the job – if only I could track it down. 
Lots of 1 metre and 2 metre poles, I can tell you. But they're only good for the common or garden type roof lights. Something that lets a long-armed, 1.86 metre human reach up nearly 5 metres…That was going to need some kind of hairy-arsed man-pole (if you catch my drift). 
So I tracked one down. Thirty quid – bargain! And did I mention it has three, telescoping sections? And a gadget on the end to firmly grasp and release the window handle? Four and a half stars, right there.
So far I've let in two thunderstorms, and a lot of wasps. On the wildlife balance sheet, I was hoping for a 'rate on ingress = rate of egress' kind of equilibrium. But the buggers can never find their way out can they? Anyway, great success, would recommend. 
-Andy
Entertainment 
Jigsaw puzzle
9/10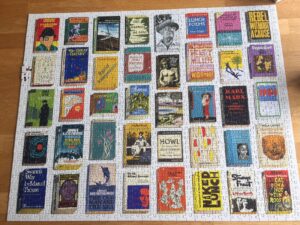 I never thought I'd be the kind of person who did jigsaw puzzles, let alone spent money on them. But lockdown had other ideas for me. It was Instagram that eventually made me do it, specifically Jenny Eclair.
I bought this one because it was book-related; look at all those beautiful covers! I was pleasantly surprised by how much I actually loved working on it. I've now become a total lockdown jigsaw addict. My children laugh at me and don't like the care home vibes that I've introduced into the kitchen. But I'm delighted with it and couldn't recommend enough. 
-Sharon
OMEN Laptop 
9/10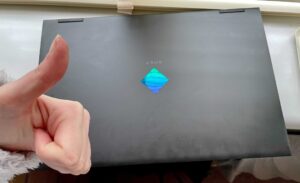 It sounds silly but, as an Apple user typically, I really wanted to play a game that was only available on Windows. Lovely big screen; I definitely recommend. Only removing one point as I spent a full month playing it after work and gave myself eye strain. 
-Jemma
Canon film camera
10/10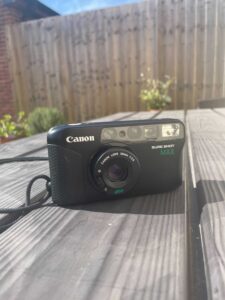 My dad absolutely loves photography and had been playing around with film cameras. I, of course, got jealous and wanted in on the fun. 
I bought this on a whim from eBay and have been surprised by how much I've used it. Yes, I may have used a whole roll of film on my cat in lockdown but when we're allowed back into the real world, I can't wait to get some vibey, retro pics with my friends – I especially can't wait to take it to festivals! 
These old school film cameras are making a comeback so if you're looking to get one, I'd head to eBay now whilst you can still get them at a reasonable price!
-Amelia