Help Welsh Charity Llamau end homelessness for women, young people and children in Wales! 
Join the Wye Walk for Llamau
Wye Walk for Llamau is a fun, family-friendly walk around the beautiful Chepstow countryside. Join us and raise funds for a worthy Welsh charity!
Date: Saturday 11th May 2019
Time: 10.30am
Duration: Approx 1 hour 30 mins
Distance: 2.6 miles / 4.2 km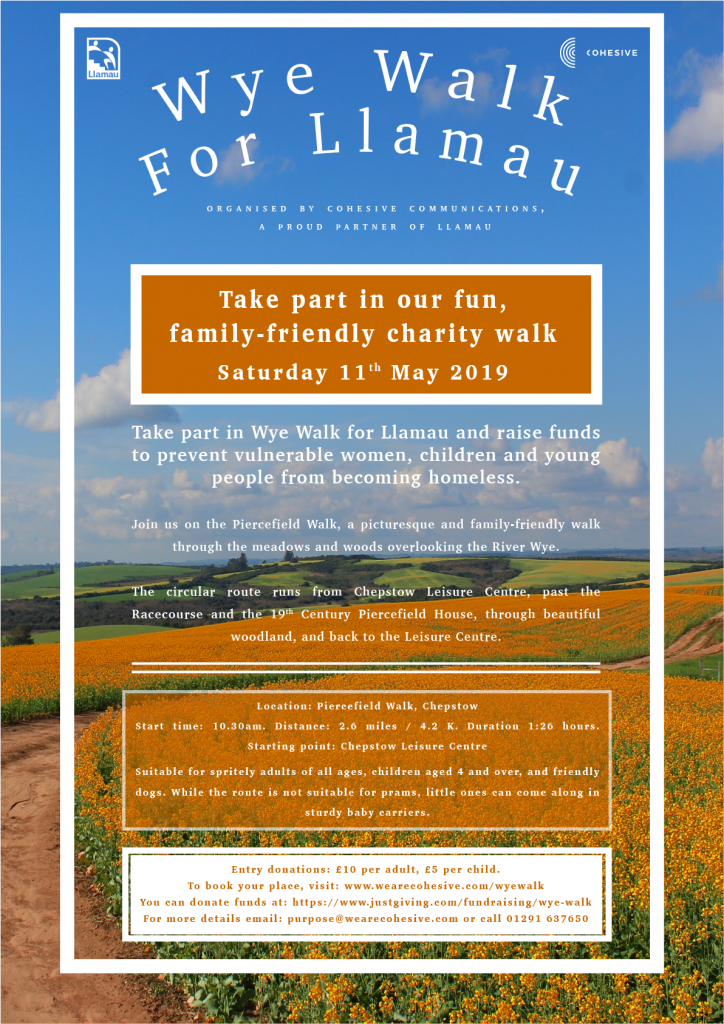 The Piercefield Walks dates back to 1750s, well-trodden by poets, artists and writers drawn to the romantic views. The circular route runs from Chepstow Leisure centre, passed the racecourse and the 19th Century Piercefield House, through beautiful woodland, and back to the leisure centre.
Wye Walk for Llamau is suitable for spritely adults of all ages, children aged 4 and over, and friendly dogs. While the route is not suitable for prams, little ones can come along in sturdy baby carriers.
The walk starts and ends at Chepstow Leisure Centre carpark. There will be limited parking on offer, on a first-come basis. If you're local, why not leave the car at home and walk?
To enter the walk and support Llamau, we ask for a donation of £10 per adult and £5 per child (age 4 and over). Sign up and purchase your tickets here.
If you're passionate about raising more money for Llamau, you can raise sponsorship money using our downloadable PDF sponsorship form. Or you can donate directly at our Just Giving page: https://www.justgiving.com/fundraising/wye-walk
Feel free to contact Alex at Cohesive if you have any questions about the Wye Walk for Llamau. alexg@wearecohesive.com