In our original article we spelled out all the essential jobs that well-thought-out content can do in the arms-length, largely digital buying journey. In this article, we get much more specific. There are questions for you to start a conversation with marketing colleagues, and some specific content recipes for you to try. 
---
Sales of high value or complex products and services never happen overnight. Timescales upwards of six months – 18 months is fairly typical – reflect the complexity of the solution and also the difficulty of achieving consensus in what is likely to be a large and extended procurement team. On the positive side, that means you've plenty of opportunity to engineer a body of content to energise and shorten the sales journey, and to maintain direction when the inevitable tangents arise. Content that supports every touchpoint – from 'just looking' to 'where do I sign?' 
You'll almost certainly need to get teams of people behind a buying decision, each individual with their own focus and concerns. Everyone will have their own challenges and ambitions, and you'll want to connect and engage with each of them at the various stages of the sales cycle. The majority of the buying journey is likely to be digital too, with few opportunities to engage with individual potential buyers face-to-face. It's a big task, but that means your ambition can be bigger too. When it comes to content to support sales, think of creating a library rather than a few brochures – a film festival, not a two minute ad. 
So what content do you need?
In our first article Content to make your sales fly in the digital marketplace we talked about the jobs that content needed to do for you. Knowing what content you need is just a matter of matching the content to the job. And the best people to match content to sales jobs is the sales team.
Questions your marketing team can answer
Working in sales gives you a unique insight into the kind of content that will hit the mark and resonate most with your audience.  You're the one most closely involved with potential clients. You're talking and listening to the people that marketing wants to attract. Your insights are valuable.
Aligning content marketing strategy closely with sales boosts its chances of success. So how do you make that happen? It starts with getting together and sharing what you know.
Here are some good questions that you can ask your marketing colleagues to get the ball rolling:
How can I contribute to sharing market viewpoints and thought leadership? 

Our industry | economy  | society  is  throwing up some big, intriguing issues and challenges. Which of those can we hitch our narrative to?

Do we fully understand the roles our customer 'types' play in their organisation, and in procurement? Do we know their careabouts?

What insights can I share that will show our expertise?

Can we talk about our PR strategy? I'd like your thoughts on how it can influence our customers. And I'd like to understand how I can help fuel the machine.

What can I send to customers so they'll get a feel for our values and know what we stand for?

What's our keep-in-touch strategy for following up with new leads?

What's the best example we have of a client success story in this sector?

I keep getting asked the same questions by customers. How can we turn this into content?

I've noticed that customers cool off at a certain point. Can we create something engaging to get them fired up and back on track again?

I've got an idea for the next newsletter, who should I speak to about it?

Can I come to the next content planning meeting?

What outcomes should I expect from your content marketing? And what do you think I should aim for through my own content sharing?

What tools can I use – beyond email and maybe social – to share my content with customers? Is there a trackable way of doing it? 

I need a way of getting the attention of a potential client. What can we create to kick start useful conversations
The Big 3 – Content that does the heavy lifting 
1 Break the status quo
As we wrote in our first article, the easiest thing for any customer to do is, often, nothing. Change needs impetus, compulsion, drive. In the digital domain doing 'nothing' leaves few telltales. And you're not in the room to intervene. So your content should make 'nothing' seem the least attractive option.
The two most important questions that your content can answer are:
How big is our problem: what is the true cost of doing nothing?
How big is our opportunity: have we considered all of the ways in which change can benefit us?
Content combats the status quo  – try these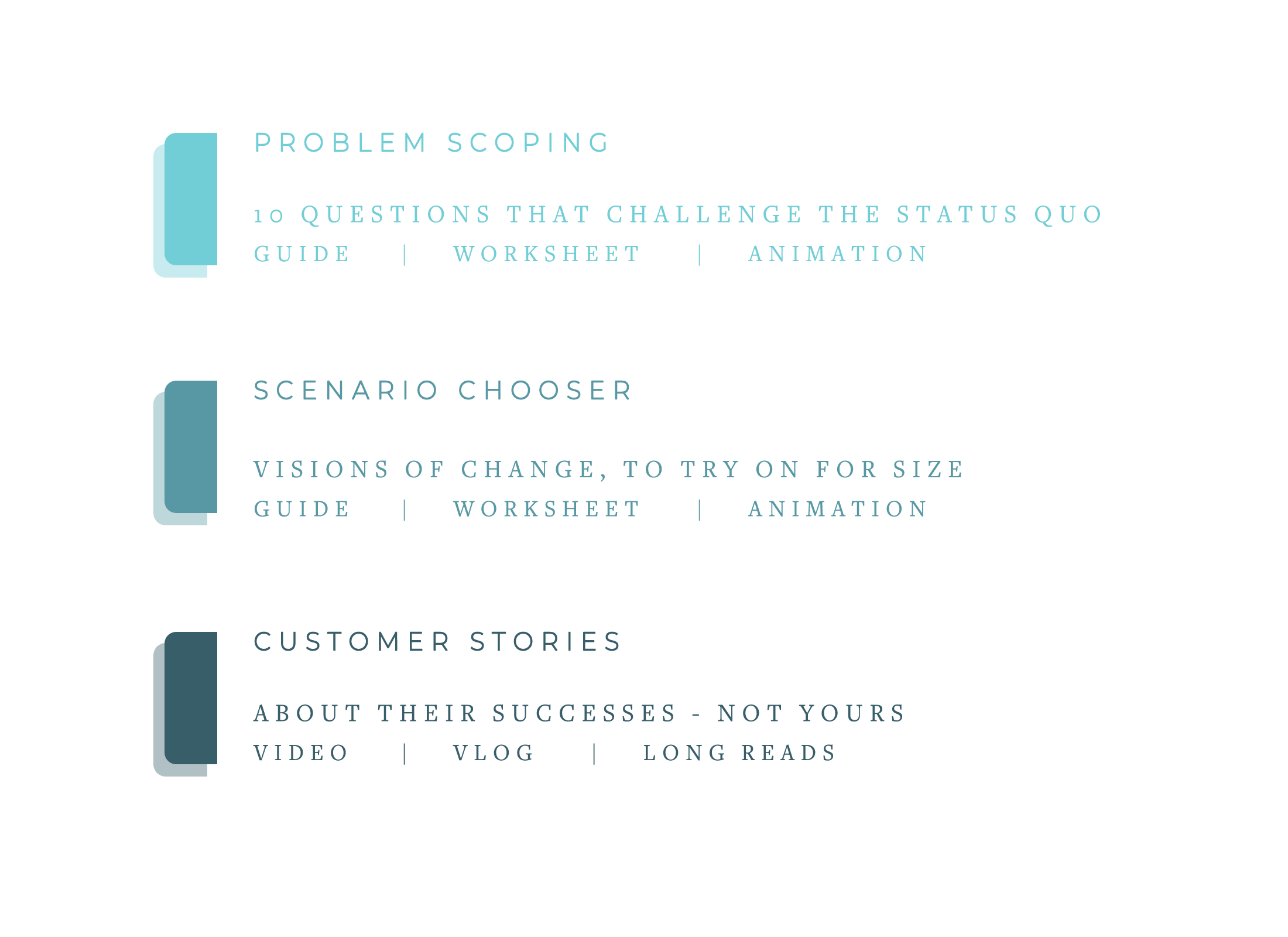 Create content that helps people see where they are now, and where they could get to in the future. Empathetic content that articulates the pain and frustration of not taking action, and lays out a clear step-by-step route to improving the situation. Content that explores the hidden benefits or knock on effects of change. Content that spotlights client success stories.
2 Inform choices through insights
The decision to act comes freighted with a thousand questions. Your content can guide your customers to reliable answers. It's helping them help themselves. You are steering them towards a vision for their solution. Ultimately, you're helping them build a list of requirements, And when your content has done its job, those requirements will favour your business.
Content for wise insights – try these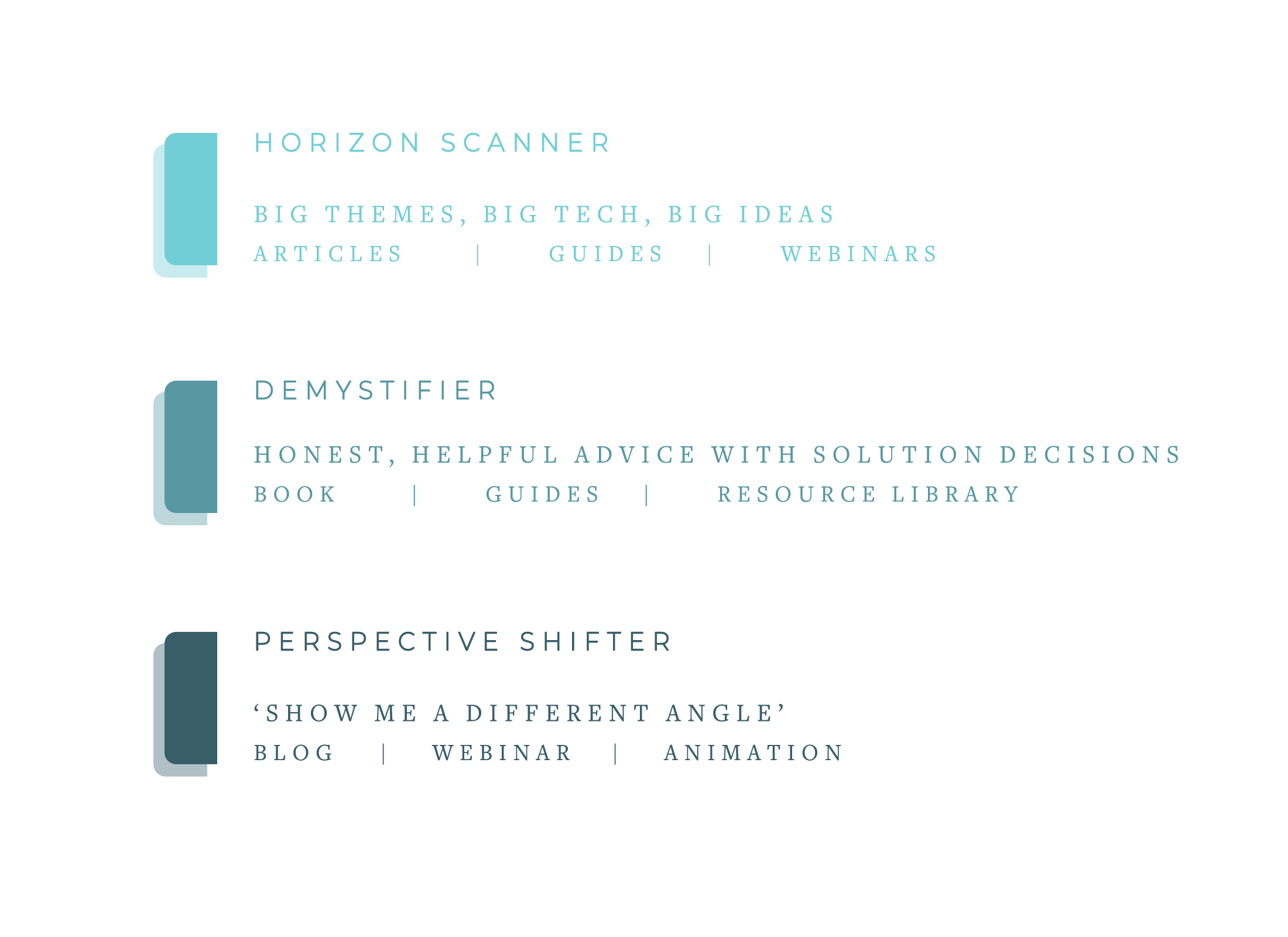 Add content that answers the visionary 'what if?' questions to your mix. Content that answers the pragmatic 'how to?' challenges. Playful content that shows your confidence. Brave content that has an opinion and isn't afraid to share it.
3 Create certainty and build consensus
At many points over a long and complicated sales cycle older decisions will be revisited, new questions will arise, and many people outside of the main process will be sought for an opinion. 
Your content can continue to validate the course already set. It can continue to provide answers as the process unfolds. And it can help your strongest supporters advocate for you. 
Content for consensus – try this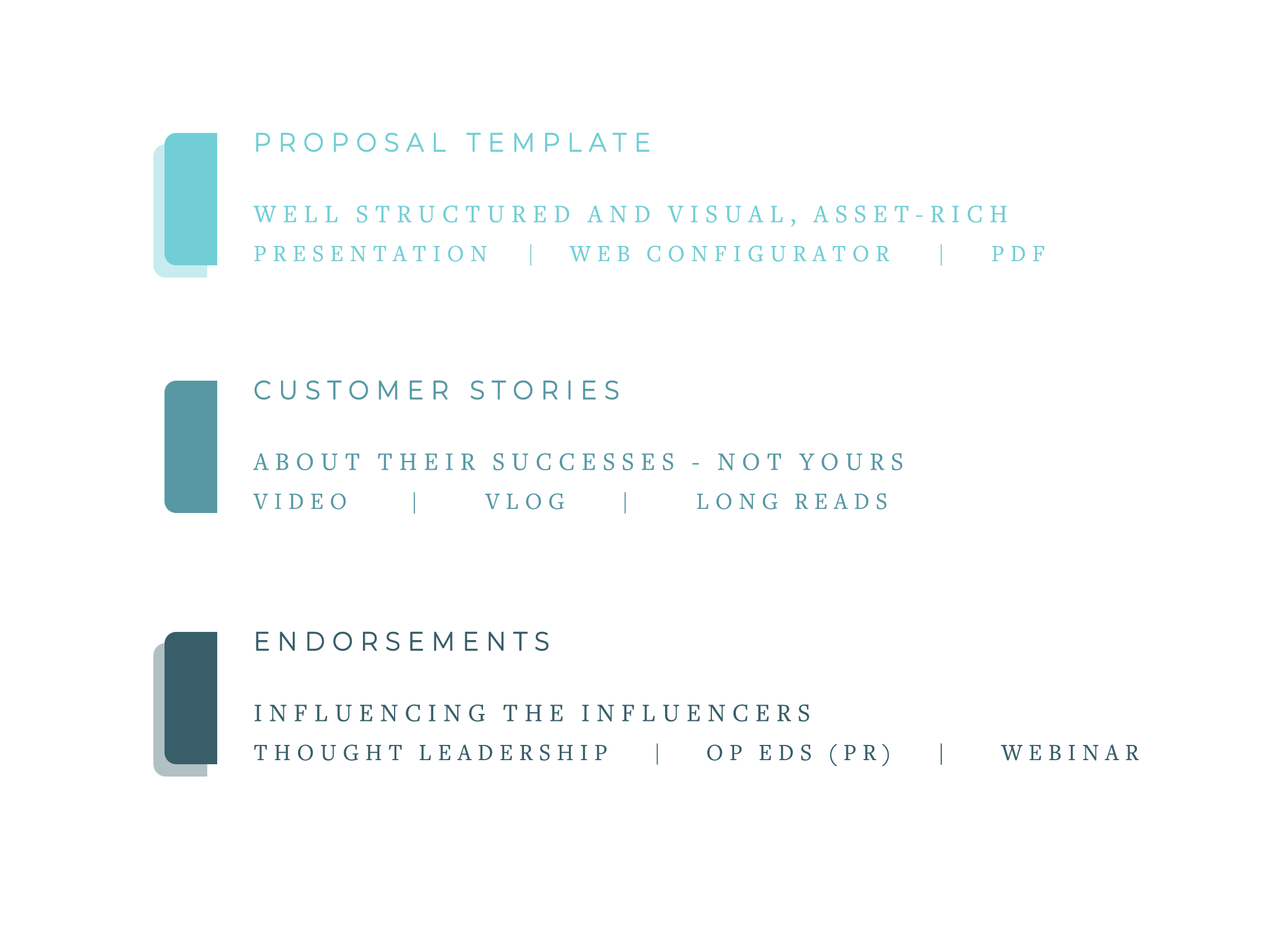 Content that lets people see themselves in the solution – templates where they can add their own data to explore costs and potential. Content that shows 'people like us' who've benefited from working with you. Content that a team can watch together. Smart PR content that prospects see in the real world.
You need strategy…
We hope by now you can envision the benefits of a strongly content-lead sales process. And we hope that the content suggestions above give you a practical starting point to build or optimise your own.
Every business' content requirements will be unique however. To fully develop an end-to-end content journey through the digital sales process you will need to invest in a broader and deeper content strategy.  Fortunately, that's not something you need to do alone. Use the 'Questions for your marketing team' section in this document to start a conversation about building one.
Finally if you feel the need for some external perspective and expertise we'd love to talk about this stuff. Leave us a comment or hit us up on the contact details below.