Sharing stories that reflect the interests, beliefs and carebouts of you and your client base demonstrates what you know – and that you care. Think of it as a gift, carefully chosen, wrapped and given
---
Whether it's in a newsletter (we'd always recommend) or social media, the curation of valuable content is a skill that all would-be communicators and influencers ought to get good at. As with most things, it's possible to make hard or light work of it. We curate a ton of content for The Clec, and for client newsletters, and we've found lots of ways to lighten the load. If you're curious, love learning and want to curate then the following selection of how-tos and anecdotes will make it fast and fun (really!). 
Take a bearing on your content sweet spot
Your content sweet spot is that overlap in the Venn diagram, mapping your interests and careabouts against those of your clients. Throughout this article, we're going to argue that those are not just narrow business interests. All organisations are communities and exist within other, broader communities. All organisations' activities create impact on culture, society and the planet. And lastly, we're all actually part-time employees (regardless of what it says on our contracts of employment) but full time humans, partners, carers and parents. These should all influence the range of interests, beliefs and careabouts that go into the sweet spot. 
All that said, we recommend that you treat your content sweet spot a bit like magnetic north: something to steer by, not a place to live permanently.
Create Story Categories
There are other ways of writing that subhead. We could have said 'create an editorial policy' or 'use your content strategy as you would a map and compass'. In fact we have said exactly those things and written at length about them and we've linked to those articles below. But the place where the sweet spot rubber meets the road to curation is your story categories. Best understood through example, here are ours, from The Clec:

In our case each category gets its own tab on a shared spreadsheet. For each entry we cite the date, rough out a headline and summary text, link to the content and append any meaningful notes. Job done.
There's a beach on the South Coast of England that I used to go to as a child to hunt for fossilised sharks' teeth. If you knew where to look, you could find dozens of them, just lying there in the shingle. Once you got good at it, you could spot them at 10 paces away, even though they're tiny, and the same colour as the millions of pieces of flint and other small stones and pebbles along the shore. 
The thing was, it wasn't so much a matter of where to look, it was how to look. You had to imprint the shape and size of the sharks' teeth into your mind, and then you could spot them really easily. 
It's very like looking for stories for The Clec. We're all looking on the same internet, and the choice is infinite. When you know exactly what you're looking for, it's much easier to find it. It's to do with the shape and feel of a story as well as the subject matter. 
Having the story categories helps, and having the sources to start your search from is invaluable. But each one of the sources is a beach in its own right. Get your eye in, get a feel for the essence and texture of the stories you want, and you'll see them shining out at you. 
Sharon Tanton
Feel the vibe
Your sweet spot and story categories (and pretty much everything else) need to evolve over time. That means you have to try out new things, and see how they work out. Sometimes you'll be wrong, and other times you'll surprise yourself. There's no formula you can apply here, but it shouldn't be random either. That's why, alongside training your eyes, you have to listen to your gut. 
York's a place for dreaming. Its earliest builders were Roman, who built the city's walls. But all the street names are Norse, because Vikings made it one of Europe's largest trading centres. Who knew that Vikings were even better at business than warfare! A couple of hundred years later the last branch of the Viking family tree – the Normans – took over. They were the first to build in stone since the Romans departed and they left us the wonder of the North that is York Minster.

So when you're in York, you see past events from fresh perspectives, and you're left wondering how York would be if the Romans had stayed, or the Vikings had not diminished. Alternative realities and histories feel close; seem tangible. Long story short: York's got a real vibe.

Probably, it was that vibe that gripped me as I browsed a large bookshop. On a shelf, not a display or tabletop, my eye was caught by a cover. The book was Northern Lights, by Philip Pullman. An almost unknown author at the time, getting the minimal profile from his publishers or the shop. I found I couldn't walk away from it. In the moment, the title felt evocative. The image of what looked like (but isn't) a golden compass on the spine was intriguing and compelling. I glanced at the blurbs mostly to confirm what I already knew: that this story was for me. A year later it became – and remains – a storytelling phenomenon lauded and loved by millions. But on that day in York, it whispered in my ear alone.
Andy Williams
To wrap that up: when we're curating stories for others, we have to pragmatically narrow the search. Creating story categories from your readers' content sweetspots is an invaluable hack. But make room for the unexpected too, be ready for the chance encounter. You can't look for those: they speak to you. You'll hear them when you're at your most relaxed, curious, and credulous. Feel for that vibe, let it inspire you. 
Curate sources, not just stories
First up, let's talk about curation services. Might it be that you just need one source? Online curation services ( Scoop.it, Feedly, Curata and others ) will take your story categories and media types and provide you with a long-list of possible content every day, all for a very unreasonable fee. Should you invest in Curation_as_a_Service?
We think not. We don't, and we curate for half a dozen or so newsletters. You're most likely just curating for one. And from our own experience we've found that sharing the discovery and discussion around a team is a) efficient b) gets a better result and c) fosters a very wholesome discussion in the team and broader business about what we know about, care about and believe in. So do it yourself. As Sharon points out, once you have your story categories in mind and your eyes trained, you'll find more content than you'll ever use. How much effort does this add up to?
"We bank on about 1 hour per team member per week, and with at least four of us load sharing, we find more valuable content than we know what to do with."
Like your content, it's important that your sources are quite eclectic. The story equivalent of the shark's tooth on the beach is something that you know will interest and resonate with your customer, and that they're unlikely to find for themselves. The latest trending post on Twitter doesn't cut it. 
Here's our list of regularly browsed sources, mostly to illustrate the spread: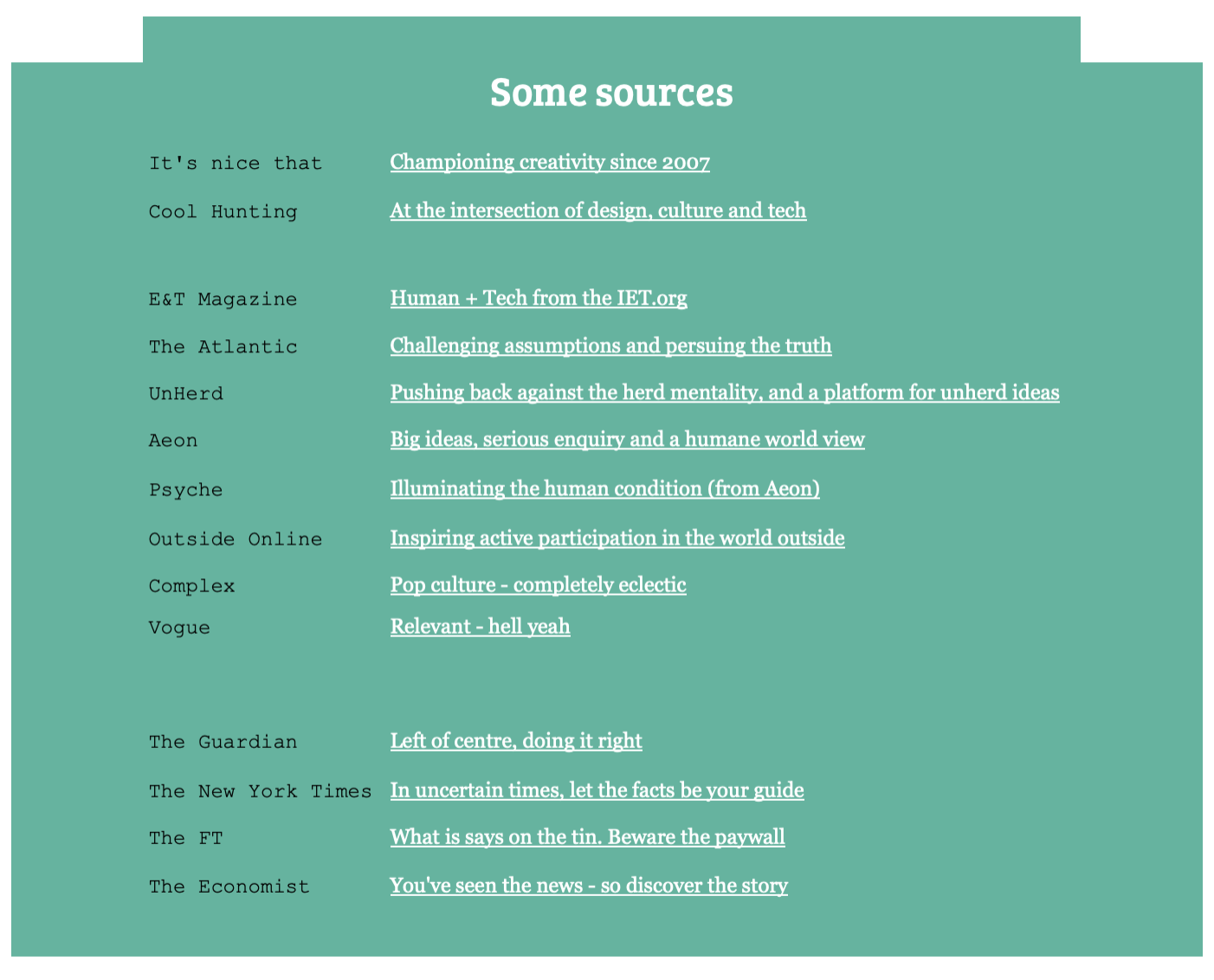 Informally, this gets reviewed at every content meeting as people find new pots of gold.

Another list worth making is a Twitter list of influencers and others with authority in your content sweet spot and story categories. It can take time to build but is well worth the effort. They'll write original content, cite articles that have influenced them, and point out new sources. 
Some last thoughts
Having dissed curation tools in general, there are some really simple, mostly free tools that streamline the process of capturing and cataloguing content as you read. We rate Pocket – which adds an extension to your browser letting you simply save and tag great content in the moment. 
Paywalls take some thinking about. We've absolutely nothing against sites charging for their content – let's be clear. But you obviously need to make sure that if you curate a source with a paywall then the casual reader can access it easily. So sites that offer one free article per month (say) in a frictionless reading experience are fine. If 'getting to free' means a signup of any kind, then know that most readers won't bother, much of the time. 
To summarise. Well curated content is a valuable resource for you and your clients. It's a groove you can get into without too much difficulty, and it's very rewarding. Great stories are a pleasure to find, read and share.
And always remember: Givers get lucky.