COVID-19 is changing the rules of communication. This article summarises what we've figured out so far. We've advice on where to place your marketing resources as budgets come under scrutiny. And we share the five principles that we're using to guide our own communication, for you to adapt and apply to your organisation. 
---
The COVID-19 pandemic is making us all reconsider what is essential, what it means to trust, and the true measure of compassion and courage. Whatever happens in the next months, our lives are going to be fundamentally changed by this experience.
The rulebook of working culture and practise is being rewritten in real time. It might seem trite, in the context of healthcare workers pausing retirement or self-isolating from their own families so they can care for the sick, but the role and rules of communication are also being disrupted and re-formed.
Cohesive is a PR and Content Marketing Agency, and so we're part of this new communication landscape. We're writing this to give you some guidance on how to prioritise your marketing effort during this time of rapid cultural change and business uncertainty. And we're sharing five ideas that are guiding the way we're communicating which could be helpful for you too.
How are you reacting?
But first, a litmus test. Ask yourself this: On my best day as a marketer or communicator, which of these four categories do I most often fall into?
Say nothing, Typified by
Let's wait until we know what we're doing

No one wants to hear from us at a time like this. 

Let's hope no one notices we're struggling
Say too much, 

Typified by
We can't fulfil your order right now and we've no idea when we'll get to it

UK Government COVID-19 guidance, paragraph 4 subsection 2.a states that our obligations are…
Tone deaf, 

Typified by
Hand sanitiser now in stock: just £20…

Our restaurants remain open for key workers and their families. Don't miss our 'buy three and one eats for free' meal deal
Empathetic, 

Typified by
Here's a real example, from Hiut Denim 

---
Saying nothing and saying too much come from the same place: fear, confusion and anxiety. If we're honest, none of us are immune to those right now. Clarity and purpose can get you out of that dark place whenever you find yourself there, so seek those out. 
Have no such sympathy with the tone deaf. This is – at best – a thinly veiled hustle. Everyone can see it, and no one respects it. 
Empathy is the voice of the helper. It's the narrative of insight, integrity and generosity. It comes from 'doing the right thing' to begin with and as such it can't be faked.
Why it's good to tell stories in a crisis
Acting on the assumption that you're doing the right thing to start with, we should have a quick rundown on strategy. Marketing budget is an easy target for cost savings at times like these. So what should you invest in and what should you pare back? Based on an analysis of brands emerging from the 2008 economic crisis, the Harvard Business Review * has this:
"Building and maintaining strong brands—ones that customers recognize and trust—remains one of the best ways to reduce business risk."
Question is, how to do that? As Jay Acunzo points out in this to-the-point blog:
"...to figure this out, we don't need a different page of the playbook. We don't need a different playbook, either. We need to ditch the playbook mentality altogether and act like people."
That's another way of saying that you and your instincts may be the best guide to figuring out what to invest in, and what to divest. This economic downturn comes out of the much more existential threat of the coronavirus pandemic.
We've never felt more uncertain or been in greater need of both reassurance and distraction. So ask yourself: 
Are 'special offers' and promotions getting my attention or getting in my way as I strive to meet my real needs?

Is it valuable to me to be interrupted by brands I don't know or care about?

Do I most look forward to the news, that new TV drama, or the ad breaks?
From another perspective here's literary agent @jonnygeller :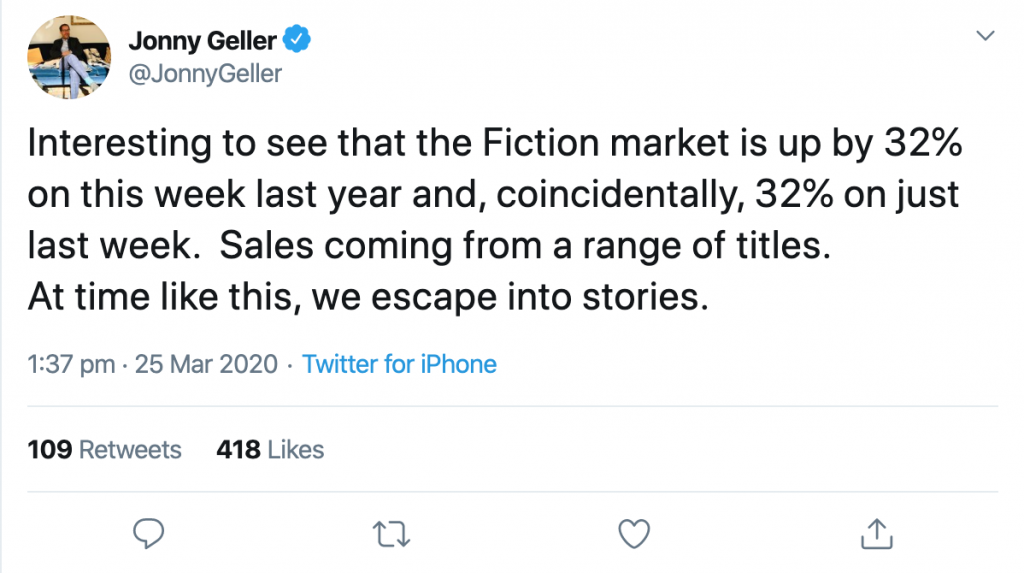 Jonny's said it for us. In times of crisis, we turn to stories. Humans are hardwired for storytelling. Have you noticed that you have a running narrative in your head, starring you as the central character in the ongoing story of your life? It's how you experience being you. Without even trying, and often without you noticing, your brain is constantly joining up random facts, sensations and emotions into a seemingly sensible narrative which flows into that story. 
The process is just as efficient in reverse – deconstructing stories back into soundbites and feelings and firing them into your subconscious, instantly creating new connections, emotions and memories. That's how storytelling cuts through the incessant noise and uncertainty, and helps your audience to focus and engage. In times of crisis, it's essential to invest in stories and storytelling. 
What stories? We've five thoughts to guide your crisis storytelling to finish off this blog. But first:
Do: Invest in activities and platforms that let your audience discover your stories, for themselves, consume them in their own good time, share them, adopt them and elaborate on them.
Don't: Do anything that interrupts or generally adds to the burden of making sense of a difficult and complicated situation. 
We're not suggesting outlawing any particular technology or medium. For instance, an email newsletter can be a wonderful communication tool. An unsolicited email with an 'unbeatable offer' is a liability to you, your customer and your brand. 
If you still don't believe us, then believe the Harvard Business Review:
"Worried consumers—even in the comfortably well-off and live-for-today segments—see familiar, trusted brands and products as a safe and comforting choice in trying times. Reassuring messages that reinforce an emotional connection with the brand and demonstrate empathy (for example, by conveying a sense that "we're going to get through this together") are vital."
Five guidelines for telling stories in a crisis
1. Think about your audience 
You may find this situation scary. You may find it cathartic or inspiring. But ultimately, what do you want your community to feel? You're writing for them, not your CEO or your accountants. 
"I'm inundated with tired messages of support from brands I interacted with once upon a time. They might be well intentioned, but they're just getting in the way"
2. Listen to the bigger narrative
That's about sacrifice, sharing, helping, listening, adapting and innovating. If your business is doing the right thing, then you're already part of that story. So tell it (minus the possibly very tempting braggadocio)
This – from Poundland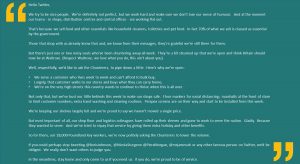 3. Help, don't sell
Let people know your offer, how they can benefit, where to reach you. That's all the selling you need to do. Don't offer promotions. Don't issue denials. Share genuinely useful stuff. Let your honesty and integrity guide you.
Here's Heinz, keeping it simple: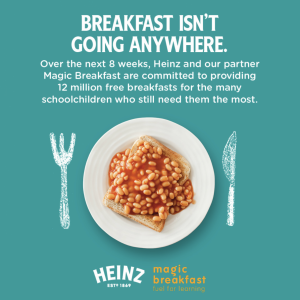 4. See it from the human perspective
Chances are you're reading this at home, maybe in your jammies. You can't buy loo roll. The kids are holding their drawings up for your sales review to mark. But that's perfect – because that's everybody right now. Write from the heart of that mother, partner, dog walker and ninja shopper that you are.
You probably saw Prof. Robert Kelly's interview with the BBC gatecrashed by his kids? Here's the bookend on that story.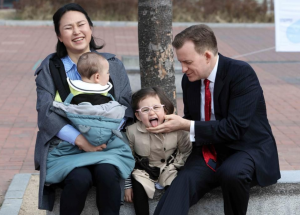 5. Know it will be out of date in a week 
Change isn't going to stop. But that doesn't matter. There'll never be a better day. There is no other moment but this one. Keep forecasts short term and list your assumptions. Make intentions, but not promises. Don't tell people what they want to hear, but what they need to know. 
@RyanAir – often accused of being tone deaf – standing out from the crowd of budget airlines for the right reasons.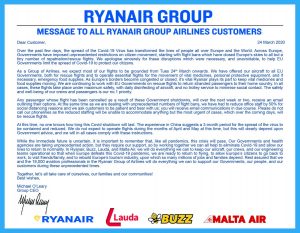 Start here
If you've been stuck over the last week or so, not knowing what to say, or whether to say anything at all, then you're not alone. It's very far from business as usual, and the fear around saying the wrong thing is so strong it can feel paralysing. No one wants to add unnecessarily to the noise, or to be seen as crass or insensitive. 
But we're all craving connection during this social isolation, and telling stories can do that for you. You might want to put the stories of your new release on hold for a couple of months but that doesn't mean saying nothing at all until then. 
This is a time for different stories. We're all figuring this out together, day by day and hour by hour. Talk about how your business is adapting, share what you're learning, share stories about your people and your community.  Never have the values of a business been more on show than right now.  
Be there, be visible, and keep connecting.

---
*Harvard Business Review 2009: How to market in a downturn