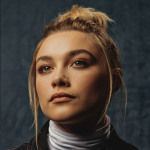 6. Florence Pugh – Midsommar – "Making Of" Harmony –
Florence feels like the big sister I never had. If you don't follow her on Instagram then I highly suggest that you do! During lockdown she had me doing dancercise to her favourite tunes and turning the old vegetables at the back of my fridge into delicious and nutritious meals cooked from scratch. More recently, she's encouraged her millions of followers to vote in the 2020 US election; thousands of people took voting action because of her influence – nice!!
We've all got comfort movies and Pugh's projects are quickly becoming some of my favourites – Little Women, for obvious reasons but also horror flick Midsommar which may seem like a rogue choice but let me explain why. If you haven't seen Midsommar, just think The Wicker Man meets The Break-Up but with added Swedish-ness. The Swedish setting and feel is what makes this film so deliciously comforting to me, despite its horrific plot. From the bright warm lighting to the calming folk music, I've been curious as to why this film is like ASMR to me. Then I discovered hygge.
Hygge is a Scandanavian concept that can only be described as cosiness of the soul; like a hug without touch. Drinking hot chocolate, fluffy socks on cold feet, reading a book on a rainy day – that's hygge. And that's how Midsommar and Florence Pugh make me feel.