The QR code is making quite a comeback. Launched with much hullabaloo in the early 2000s its reputation was damaged by disappointing experiences and clunky tech. Here's what you need to know.
---
Life in black and white
A panda. The piano keyboard. Chanel and Chaplin. The sky on any cloudless night. Times New Roman. Guinness in the glass. Pirate flags. Snow lying on cedars. Ska and TwoTone. Chess and chequers. 
So much that is emblematic in our lives is provided by the matchless aesthetic of black and white. You'll come up with your own examples, effortlessly. And they will be powerful and activating and unforgettable.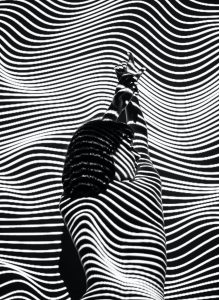 And that might go some way to explaining our intolerance, our active dislike even, for QR codes. Maybe it's because we feel that they're hijacking our natural empathies in order to serve some shady purpose. Maybe because they're increasingly non-optional. Or maybe because they're just plain ugly.
But I'm willing to gamble that's all about to change. There are whole communities – with shorter attention spans that you or I are credited with – that use them effortlessly every single day. But before going there, it's worth delving into the why and when of the QR code. 
Once upon a time?
The QR code – or Quick Response code – was actually a runaway success long before you or I ever saw one. It was invented by Toyota, who also gave us the Corolla (we owned a '78 Coupé called Kate) and the Prius. Those cars all fall into the bracket of 'good little runners: not much to look at'. So we ought not to be too surprised by the fugliness of the QR code. 
But that's to miss the main point. Toyota also gave the world Kanban for task and process management, as immortalised by Trello, Asana and Monday. 
"QR codes and Kanban were both originally conceived for factory production workflows: empowering car workers with greater autonomy over how they got cars built. It made their jobs more varied and interesting, and in return they built cars faster and better."
Anatomy of a QR
Before QR codes came the barcode. Like this sentence, they encode information in one dimension only: along the horizontal or x-axis. QRs encode information in two dimensions: they're read simultaneously along x- and y-axes. Meaning that a QR code stores more information per unit area. A postcard sized barcode stuffed to the max with info could be replaced with a postage stamp QR. 
Back to the future
Now's the moment to pause and think about the world of communication and advertising in the early 2000s – just around when QR codes were hitting their industrial prime. Henry Ford famously said that 50% of his advertising worked, he just wasn't sure which 50%. Emerging digital ad agencies were pretty sure they'd cracked that problem, thanks to technologies like tracking cookies built into web pages and browsers. They could report visits, clicks and conversions to their advertisers. Meanwhile millions of acres of very expensive ad space on billboards, buildings, transit systems and inside the covers of glossy magazines remained mute. What those publishing barons needed was a bridge between two worlds. A slick feedback loop from analogue to digital: and from perception to action.
"In the same way that the Wright brothers ushered in powered flight by combining a big kite with a small lawn mower and calling it an aircraft, advertisers looked to combine QR codes with emerging consumer smartphones, delivering a promise to transport us to a new world of interactivity and instant gratification. "
We've already explored why QRs can convey so much in a very small footprint. That's one of the reasons that they could escape off the back of packaging and into a beautifully designed poster or page. Another is because the QR reading algorithm allows for a large margin for error. So you can drop a logo into the QR design without affecting performance. And you also know it will survive scratching, weathering and staining for the same reason. It seemed like the convergence of print and digital was nailed on. 
We saw these funny new symbols in our favourite ads. We were intrigued by the promises of what lay in store if we snapped them. And we had these phones that were smart alright, but not that much fun (this was pre 3G, App Store, Facebook and Twitter, remember). So a lot of us climbed on board. QRs briefly took flight and then, like that inaugural jaunt at Kittyhawk, they came down to earth with a bump. 
It's not about the tech
Well maybe it is, a bit. It's easy to forget that before iPhone, phone manufacturers reckoned they could conquer the world by making content exclusive, rather than ubiquitous. Older readers will remember the 'breakthrough' of using a WAP-equipped Nokia or Motorola phone over skinny GPRS-EDGE networks to access walled gardens of content with at best dubious value. Advertisers cut deals with manufacturers. Some phones got equipped with a QR app behind their cameras. Others didn't. It was a hit and miss affair, with some pretty underwhelming content as reward. 
But now think about the issue from the perspective of value and trust. Remember that thing about QRs empowering people? There wasn't much of that in those early transactions either. The emphasis was firmly on exploitation.
"We all now know that tracking people across the web creates privacy issues requiring foreknowledge and consent from consumers."
It's taken a quarter of a century for that to be enshrined in legislation, and it'll take longer still for textbook good practice to become everyday good ethics.  So, long after the tech evolved to make QR reading a streamlined thing, consumer trust and therefore use remained flatlined. 
It's about empowerment. 
So to what can we attribute the re-emergence of the QR in the public consciousness? Empowerment of course. It got rediscovered – by the Chinese. WeChat is a phenomenal success, used by hundreds of thousands of people in China. And the most streamlined way for WeChat users to connect with a new friend was by displaying or scanning a QR code in the app. With their usefulness established, the application of QRs expanded. To streamline payments for example. 
Snap's CEO Evan Spiegel spotted them in use on a trip to China in 2014, saw the potential, and brought them to Snapchat. Snap took full advantage of the information content and durability of the QR – and they could personalise it with their logo too. For Snapchat, QRs became a way to connect users to features, in the moment. Lenses are a classic example. It's empowering the user while streamlining the user experience. Snapcodes were born. And shortly after, Messenger Codes, Spotify codes etc, using the same principles.
"Snapchat users are currently scanning more than 8 million Snapcodes every day. "
And now, that application that we are both desperate for, and desperate to see the back of. COVID Track and Trace. While governments around the world figured out their own trust issues and tried to build automated T&T apps, the rest of us were stuck with the paper version. Consumers filling forms with date, address and contact information. Retailers (say) with the job of collating it all. No one can argue that QR-driven venue check-in isn't just a time saver but a huge reassurance too. 
Coming Next
Financial inclusion
One area that seems pregnant with potential is payments – particularly micro payments. You might think that near-field communication tech (NFC) such as Apple Pay and Google Pay have this covered.But consider the lives of people without access to payment terminals, merchant agreements and the like?
In the UK the Big Issue Foundation supports thousands of homeless people by equipping them to sell the Big Issue magazine on the streets for a modest income. It's a hand up, not a handout, as the slogan goes. You can pay the vendor either in cash or – apt for the times we live in –  increasingly in cashless form. But the real payment innovation comes with the magazines' second life.
The Big Issue is one of the mags that
always finds its way to a second or third reader. What if those readers want to do the right thing and pay the original vendor? Well, they can.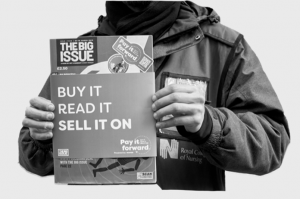 In partnership with Monzo bank, The Big Issue is piloting Pay It Forward. Magazines printed with their own unique QR can be snapped by the new reader, and the original vendor receives a payment. That's Tech for Good, right there.
Transactions in context
A great example is the app from my favourite coffee shop. When I need to pay, my app generates a QR for the till's scanner to read. It authorises a payment to be taken, but it also identifies me as holder of a loyalty card (so I get the stamps) and checks me into the shop as part of their own COVID Track and Trace measures. Just one code. Just one scan. I always have control over how much info about me the app shares through the code – so I feel I can trust it. It's the QR's information density – well beyond the lean info swap needed for NFC – that makes this possible. And with not much imagination, you can transpose that to thousands of similar scenarios.
Augmented Reality meets marketing
I feel you running ahead of me here: Ah – I'm in a museum, or gallery. Or I'm looking around a car showroom or department store. I scan a handily placed QR and bingo – tons of contextual information presented to me via my smartphone. Well, yes.  This feels like where we all started 5 minutes ago, right?
But now take the empowerment and experience further.  Back in 2016 Netflix and Snapchat teamed to transform a couple of hundred bricks and mortar cafes into Luke's Diner, for a mini revival of The Gilmore Girls.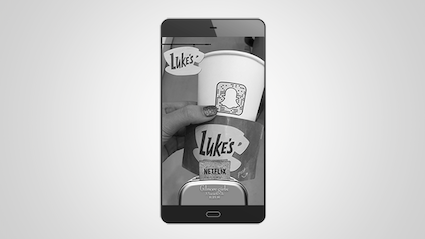 The campaign was an artful blend of experiential marketing and AR with Snapchat adding a Snapcode to coffee cups to unlock Gilmore Girls filters.
Dynamic QRs can take this further. One QR, multiple experiences. Every time you scan, something new, and potentially episodic, comes your way. A great way to bring eyeballs to a story, don't you think?
So, after a well-deserved benching for underachievement and misbehaviour, it feels like QRs are going to be an increasingly useful, interesting, simple to use part of all of our lives.
I'd love to hear about your best and worst QR experiences. Leave me a comment below, or reach out to me on Twitter!